791Coop Overview
If your company is awarded a contract, the door is open to the local, State, and K12 education government marketplace!

Register with 791 Purchasing Cooperative.
Register to receive proposal notifications and create a unique login name and password for future use. You will receive a confirmation e-mail after the information has been added to the Registration List.

Notice: Registering does not give your company automatic participation in the 791Coop. Vendors must be awarded a 791Coop proposal to participate.
What you need for 791Coop vendor registration:
• Tax ID number
• Annual gross sales
• Years in business
• Special classifications such as minority-owned or woman-owned business

The six-step registration process includes:
1. Accepting the 791Coop terms and conditions.
2. Providing your company information.
3. Providing primary address information.
4. Vendor classification.
5. Providing primary user information.
6. Reviewing & Submitting the registration.
After you are registered
As a registered vendor, you will receive e-mail notifications of future proposal opportunities for the commodity categories selected in your registration.
The second step is to respond to one of the proposal opportunities and ultimately be awarded a contract by 791Coop.
View our list of solicitations and to register, and click below for more information.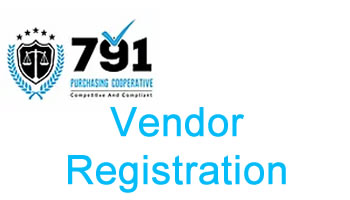 Interested in Becoming a Participant Member?.